After our last Greyhound trip in Australia and Steph's last overnight bus, we arrived in the not so sunny Melbourne. The lovely Rien came to pick us up, another good friend from our Contiki tour around America in 2008. It's strange thinking back when we all said our good byes thinking we would never see each other again and this is the third time I've seen Rien since!After kindly picking us up, he took us back to his and Pat's (another old friend from Contiki) place, which would be our home for the last part of our trip in Australia. It's really nice to spend time in a house whilst travelling if possible, just to relax on a sofa and have some home comforts around you that you just don't get in hostels. Rien and Pat treated us to a BBQ that night and it was delicious, John had seconds and thirds!
All the boys were busy the next day so me and Steph had some much needed girly time & window shopping. On a travellers budget, even the special, special offers were way out of our price range so sadly we came back empty handed. Tell a lie, we managed to afford some pasta and cooked for the boys, it was the least we could do.
Rien then took us for some 'gillatto', its like ice cream but without the cream and comes in fruitier flavours like mango & pineapple, anyway it's beautiful and so refreshing. However, Steph picked all the creamy flavours so basically ended up with ice cream and I couldn't resist a soda float so we all dipped into Rien's.
A Trip Down the Great Ocean Road
Day three in Melbourne was spent driving the Great Ocean Road and visiting the 12 Apoceles, not that there are 12 anymore, but the trip out there was still worth it. The views from the road are breath taking and the 9 or so apocles that are still standing are a sight worth driving to see.
The trip did have an added bonus, we stopped at the lighthouse from the TV series 'Around The Twist' which was so cool, and if your anything like us lot, the theme tune will now be in your head all day! After our day trip we visited little Vietnam in Melbourne, like China Town but not China, instead Vietnam (incase you hadn't guessed). The food tasted just like it did when we were in Vietnam and it brought back plenty of memories.
Time For a Brewery Tour
Another brewery tour was the plan for day four and we met more old friends from Contiki; Mark and Brett. Mark had also offered to put us up so the next two nights would be spent with him in the city. We really can't thank Mark, Rien and Pat enough they were so generous whilst we were in Melbourne and made us feel right at home.
The Fosters brewery was good; they gave us outfits to dress up in and we had beer pulling competitions, which John and Mark won, much to everyone else's disappointment. But if your only going to visit one brewery in Australia I recommend the Castlemaine one in Brisbane, if only because you get more free beer.
We were then taken for a quick visit of Ramsey Street from the TV show Neighbours, which to mine and Steph's disappointment was just a normal street. I have no idea what we were expecting; obviously it looked just like the street in the show and we could name who lived where etc… but it felt strange taking pics because real people actually live there. As it was getting late we made our way to Marks, and had a quiet night settling into out new home.
The next day Mark took us to Victoria Market, where you can buy anything from tea towels to 'real' leather coats and yes, you guessed it, lots of lovely souvenirs. After Steph bought pretty much a whole shop's worth and made the shop keepers day we headed to China town, actual China town this time, and ate some really good, really cheap food. Stuffed we taxied it home to prepare for our big night.
That night, most of the people from our Contiki tour were meeting for a few cheeky ones, with some flying in for the big event. A night which went well with lots of reminiscing, I won at the casino and we ended in McDonalds. What more could you ask for? It was great to see old friends again.
Watching Aussie Rules
The next day we were taken to a Aussie Rules Game at the MCG. John has blogged all about it as a guest blog writer for You're Supposed To Be At Home, which should be published soon, we'll let you know when. The game was quite easy to get your head around and the team we were routing for won, come on you Hawks!
After the game we took a quick walk past Captain Cook's cottage, a very old English cottage in the middle of a big park, Cook had it moved from England brick by brick so he had his own home in Australia.
That night we had been invited to Paula's (yes, another old friend from Contiki) and after too much pizza & a lot of wine it was time to sadly say farewell again to all our friends and head back to Rien and Pat's for more Underbelly.
Underbelly is an extremely cheesy TV programme, loosely based on the true story of gangsters in Melbourne. It's a must see if your visiting Melbourne and you will be furious with yourself for getting addicted to such a badly acted show! Even better if you watch it with Aussies as they can fill you in on the true events & drive you around some of the places it all went down.
Feeding The Kookaburras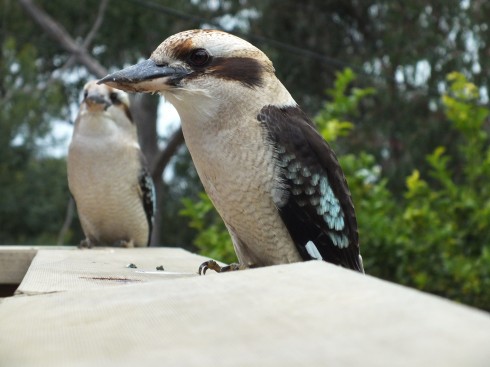 We spent the next day at the town where Rien grew up, just outside of Melbourne but completely different; it was a tiny little town and the surrounding countryside was full of wineries. It's safe to say we sampled the majority of wine on offer, along with some very tasty cider. Rien's mum kindly made us lunch and we fed kookaburras off her porch. It was a great day out thanks to Rien and his mum.
As this is the longest blog in history I'm going to wrap it up quickly by thanking all our Oz friends & family for putting up with us and showing us the sights, John had a great birthday meal and we had a good laugh in Melbourne, make sure you come visit us soon so we can return the favour!
Sadly this was the end of the trip for Steph, so we said goodbye to her too. But you did cure my homesickness whilst here so thanks Steph! Next stop is New Zealand and you can read all about our JUCY adventures here and on Tumblr at http://twofromwales.Tumblr.com/ Go check it out!