The honor of our very first very special guest post goes to Steph; Jemma's bessie from back home who has flown out to join us for the final two weeks of the Australian stretch of our journey.
Byron Bay; we arrived tired after my first 'Greyhound' bus ride from Brisbane to Byron Bay. We arrived at our hostel at night, so with no light to explore the town, we decided to do what Jemma and John had learnt to do best during their time in Australia – drink 'goon'.
We checked in, and sat outside in what was to be the first of three nights in our temporary home. Catching up on the last 3.5 months made the time fly as 11pm rolled around and we got told to go to bed! A sleep I welcomed very much after traveling for about 30 hours and having around 6 hours sleep between it all.
Kayaking with Great Whites
Our first full day in Byron and we decided to spend the morning sea kayaking to see some marine life; dolphins and turtles, maybe a leopard shark, do some snorkeling and all finished off with a cup of tea and a 'tim tam' (Aussie version of a penguin). All the regular 'pommy' questions re sharks had been asked prior to getting into the kayak and we were told that there were more chances to see dolphins and turtles than sharks.
However, around 45mins into the trip out to sea and around the bay we still hadn't seen any dolphins which was leaving the guides a little puzzled as the conditions were apparently perfect. Then Jem spotted a fin under the water by the kayak I was in – queue the 'oh where?' questions and the guide dipping his feet into the ocean until the shadow of the animal belonging the fin swam quietly underneath my kayak and we were told it was some breed of shark!
Not until we got on dry land would we find out the type it was, so we carried on paddling back to shore and trying to spot some dolphins or turtles to which none were to be seen.
When back on dry land enjoying a hard earned tim tam and brew on the beach we were told that the shark had been either a Bull Shark or a Great white. We learned that Bull sharks are very nasty and kill the most people. The company had offered for us to go out again for free the following day as we didn't see any dolphins, but we decided not to especially as I had only been in the country 24 hours and had another 18 days in Australia which I wanted to see to the end.
Catching up With More Friends
Later that day, we met up with two of the lads Jemma and John had met up with over the course of their travels and went to have a BBQ. However BBQ's on the side of the road in Byron turn off at 8 pm, which meant none of the food cooked, so we headed back to hostel where travels were caught up on and future travel plans shared. We had our food and headed for a few drinks in the local night spot 'Cheeky Monkeys'. A good night was had by all.
Day 2 and we woke up late, milled around town, did a spot of food shopping – I was introduced to the travelers way to shop and we organised for a goon party with Jem and John's travel buddies. Before the goon could flow though, we though it best to do something cultural and checked out the sunset from the foot of the light house. As you would expect, it was nice. A little bit windy but cool.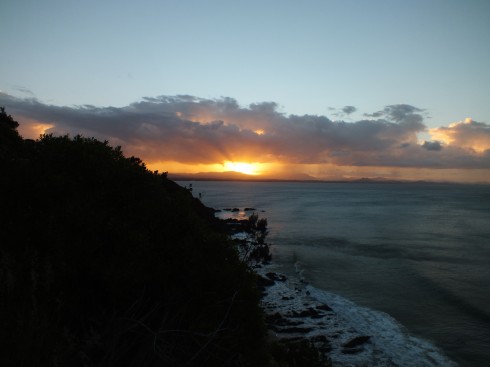 After sunset, the night ended very messy with drinking games being played in a camper van and, me & Jemma not being very good at them ended up losing most of the time.
Day 3; bleurgh! After waking up with the worst goon head ever I spent the day doing nothing while John and Jemma, both quite accustomed to this feeling, got on with the day ahead, making sandwiches and sorting out their future travel plans for New Zealand. That day did not end until 9am the following morning as I experienced my first over night bus to Sydney, something I was anticipating being a lot worse than it was. The bus was warm, comfortable and saved wasting a day traveling.
Next stop the bustling city of Sydney after leaving the chilled out bay of Cape Byron.