After the fun of Chicago, we arrive in Toronto for a few days for some sun, sand, sights and bloody big water falls.
I'll start out by saying I like Toronto; it has big English style churches, it's hot and it has lots of British style pubs which sell draught Guiness. But, I prefer Vancouver for some reason which I can't put a finger on, but I prefer Vanvoucer.
Sunning It Up in Toronto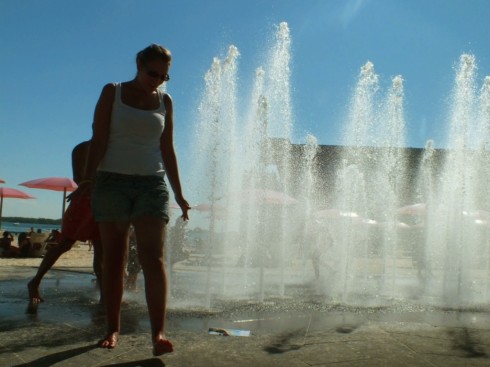 One advantage Toronto has which we didn't see in Vancouver is it has beaches. Sandy beaches on the edge of the lake which you can sunbathe on and fountains you can stand in to cool down.
Which is all quite handy as we didn't plan to spend too much time down town; all this window shopping is starting to take it's toll and Jemma fears she is loosing her tan. She is after all, now a lighter shade of Chocolate.
Our two days were spent on the man made beach just down the road from us, doing nothing but reading. Oh, that's a lie. I also had a proper hair cut. Not from Jemma but by a proper old style barber shop. The long messy hair has gone.
Getting Wet at Niagara Falls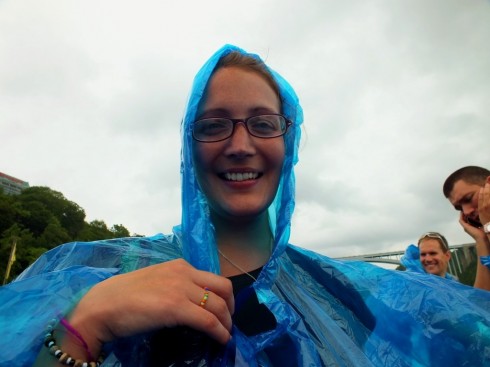 Day three we get the short bus trip down to Niagara Falls, Ontario for you guessed it…. Niagara Falls. We didn't have long here. It was, as with a lot of places, a semi-well planned affair with which we went straight to see what we came to see before considering anything else. In this case, it was the Maid of The Mist boat cruise to the foot of the water falls.
Stay dry we didn't, but enjoy the ride we did. It was amazing the sheer size of them, the amount of water flowing and the fact that a 7 year old boy plunged over the edge in nothing but a life jacket (and swim shorts I guess) and survived! Much more impressive than the 63 year old woman who did it in a barrel and survived (she told everyone she was 43 so she would be allowed to do it). Mental.
The boat got us right up in there, we couldn't see for the mist, our free plastic ponchos kept all but a bit of water off us and kept the camera tucked safely somewhere dry. For less than $20 each or so, it was money well spent.
We didn't spend money however on the walk round the back of the falls, we'd heard it wasn't all that good considering the price. I would also go as far as go say, Canada's Horse Shoe Falls trumps over the American Falls. Just a bit.
After that, we again wandered around town. Enjoyed dinner in the Rainforest Cafe and retired back to our hostel to charge the batteries (literally, my iPad & phone were dying on me).
The Falls in a Different Light
As night fell, we were told the falls get lit up with giant multicoloured spot lights, which we just had to see. And happily, we weren't disappointed. Something as simple as shining a bloody big torch on a bit of water was still darn impressive, and a test of our amateur photography skills.
Returning back again to the hostel, we happened to notice a Greyhound Bus which left just after midnight, and would get us into Washington earlier than we had planned. So we decided to check out early and sleep on the bus instead.
It's just as well really as we had booked our next hostel a day early, or we were a day late leaving Canada. Who knows? But either way, we would miss one night somewhere and we chose Canada. Next, we go back to America and the adventure continues.