After the busy few days in San Francisco it was time yet again to jump onboard the Greyhound and make our way up to Vancouver, Canada via a brief stop in Seattle.
A Quick Stop in Seattle
Our stop in Seattle was only for one night, but we chose a good night for it. We stayed in the Hostel International there in China Town and it just so happened to be that it was the Sea Fair parade that evening through China Town, passed the front door of our hostel.
This parade had a few floats, some people waving while sat on the back of nice sports cars, a motorbike demonstration by the local police and loads of other performances. Was actually quite an entertaining little parade; Chinese dragon dancing and traditional Chinese dressed dancers (with Kanye West style sunglasses on).
The following day, we would have a quick look at down town, and as with a lot of places in America, we really would have liked a little more time and a lot more money here to enjoy the full extent of Seattle. But, it wasn't to be and we instead jumped on the bus to Vancouver.
Arriving in Vancouver
The journey was a pretty smooth one, apart from the border crossing which, like most other immigration checks we've had thus far, made Jemma panic and whiter on when the guards asked her a question. Quite funny to watch, but makes you wonder. Has she got something to hide?
Arriving in Vancouver at tea time, we settled in with a beer in the pub below the hostel. Buy a pint and get a free meal. Perfect. A couple more beers later, we made our plans for the hectic couple of days we'd have before moving on again.
Capilano Suspension Bridge
Day two and we started with the Capilano Suspension Bridge. Quite a cool place set out in the country. It teaches you all about the local history, nature and has a big feature on the importance of water.
The main attraction here though is both the suspension bridge which crosses over the valley and the look out platform with it's glass floor out over the river quite far below. The bridge is good fun to walk over. With a constant flow of people, it does swing quite a bit and might not be one for the faint hearted (i.e. Jemma) and the look out platform is good too as you stand out looking below your feet at the river which at this height looks like a small stream below.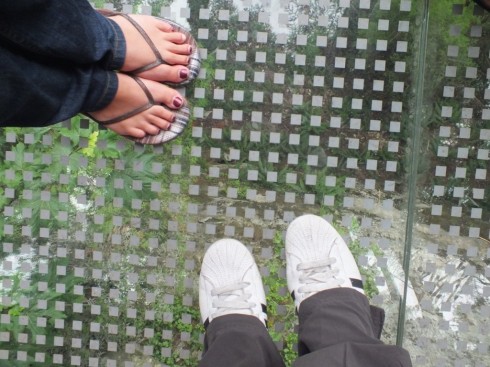 Heading Downtown
After checking out the local nature, we jumped back on the ferry across the harbour to check out downtown. Or in other words, to window shop and check into another Apple store while dreaming of my next Apple purchase (an 11″ MacBook Air please).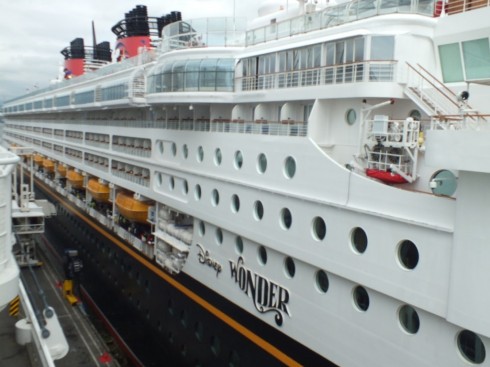 Downtown Vancouver is like any other downtown I suppose, well except the Disney Cruise Ship docked at Canada Place and the rather reliable Sky Train which can get you around the place quite quickly & easily.
Catching Up & Drinking Lots
Later that evening, we met up with a couple of friends which we met up with way back in Koh Tao, Thailand (ages ago!). We had a few drinks back at their new apartment while we caught up, then into town for a few drinks and a brief guided tour before catching up with another friend, this time from Laos/Thailand for more drinks.
The number of drinks quickly caught up with us, it was the most we'd knocked back in a long while and needless to say we had another monster hangover and another monster bus journey the following day. Not a good combination.
This time the bus would take us back across the border to Seattle (this time I did the talking with the immigration guards) for us to catch a flight over to Chicago. We dislike Greyhound trips that much we preferred to pay extra to fly rather than spend another 48 hours or so on the bus.
Although our time in Vancouver was brief, we had a great time. We had lots of fun catching up with our travel friends, and certainly got a good taste for the place. Needless to say, we want to go back again. Yup, with more time & more money. Thanks guys for showing us around!