Our third week plus a few days has been spent within a stones throw of the sea. The weather starting out all stormy but coming good, very good at times, as TwoFromWales and JUCY Lucy made our way up the Coromandel, through Auckland, around Ninety Mile Beach, Cape Reinga & the Bay of Islands and back to Auckland.
Our weekend with friends started out with a terrible storm up in Whitianga on the Coromandel. Our little JUCY camper van came to the rescue as we we able to seek warmth, comfort & shelter from the wind for the afternoon while we waited for it to pass over. Scrabble for the iPad being one of the best apps we've bought.
Stormy Times in the Coromandel
That night was a rough one, the winds blowing all sorts around the camp sites and the rain was driving down hard. The following morning, with the arrival of or friends, things weren't much better. Our boat trip & fishing cancelled. In it's place, we drank plenty of quality home brews, watched rugby on TV, played some cards & ate fish n chips. Perfect!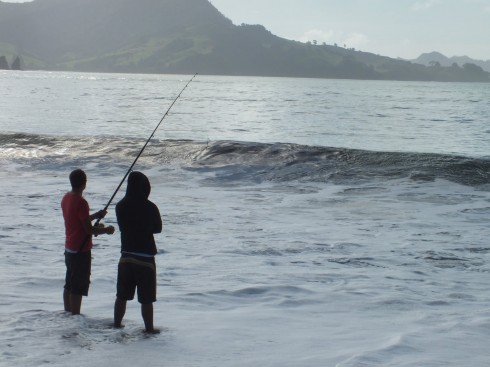 The following morning, with the storm clearing and the sun appearing, the boys got up early to try their luck fishing off the wharf before we all made a quick ferry trip over to the beach for more fishing & a spot of beach cricket. That was until sand flies stopped play. The pesky buggers ate us all and we're still itching because of them.
Stopping only for a coffee in Coromandel town, we made our way back to Auckland to set up camp in the car park of our friends apartment. Why not, there's hot tubs, saunas, swimming pools to use and Sunday roasts within walking distance.
Giant Kauri Trees in Waipoua Forest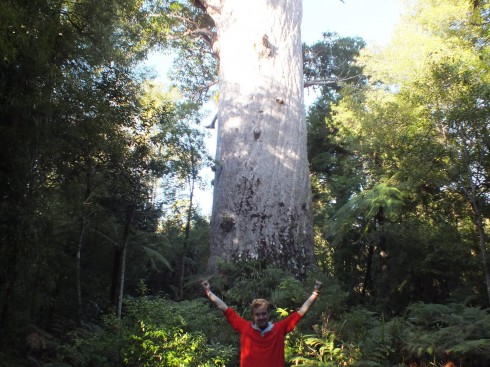 After a day or two of relaxing, we jumped back in the van for our final days on the road. We set off up to Waipoua Forest to see some giant Kauri trees and a bush walk (or three). These guys we're thousands of years old and GIANT! It's incredible. We saw the 2 largest in New Zealand & the Four Sisters and left suitably impressed.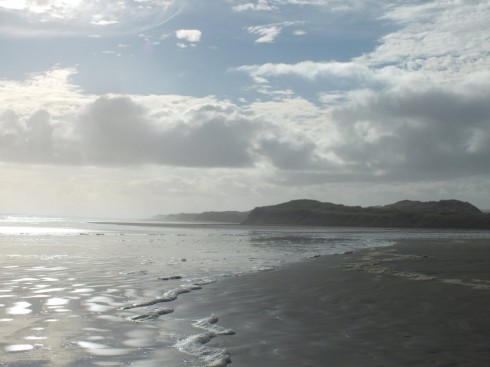 Next day, we went up to see Ninety Mile Beach (which was a bit dirty & smelly but none the less, very long) and to scramble over the sand dunes. Here, these giant sand dunes roll on for miles, you climb up one to find a bigger one behind it which you've to get over. While there, we tried our best to write a quick message in the sand but it turned out to be far too small to see from a distance. Was a shame really, all that hard work of climbing, or crawling rather, up the sand dunes & digging out the words 'Two From Wales' for almost nothing and I say almost nothing, as the most fun was had getting down back to our van.
Jemma decided to slide down on her bottom and take it nice & steady. I thought I'd be the clever one and run down. However, like a fool, it wasn't long before I was running too fast for my own legs and falling head first in to some sort of commando roll for the rest of the way. I may have bounced most of the way down & felt really dizzy at the bottom, but I won!
After cleaning the sand from our toes it was another quick drive further North, up to the top of the North Island to see the lighthouse at Cape Reinga & the meeting of the Pacific Ocean & the Tasman Sea. We'd heard plenty of horror stories of bad weather making the drive really difficult and being unable to see the light house etc… so I guess we must have been lucky when we arrived to glorious sunshine all around.
Dolphin Spotting in the Bay of Islands
After that, we drove all the way back down to the Bay of Islands for our half day cruise to try catch sight of some dolphins. And success, we'd finally managed to find what we'd come looking for, unlike Byron Bay of course! We saw a pod of dolphins on our way back, after all on board had given up hope of seeing any. The dolphins we're apparently feeding & playing in front of us, with one quite happy to swim to the front of the boat to show us his dinner before disappearing.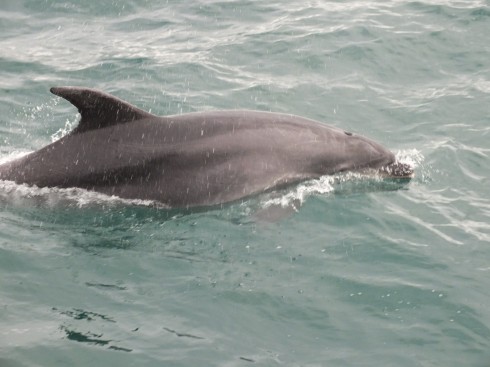 I got a few good shots (and hundreds of not so good) and Jemma got some close encounters on video. As with all our New Zealand adventure, we'll get these online as soon as we get some good Internets. The tour also took us around the many islands and through the hole in the rock. If water lands on your head, it's good luck. If a rock does, not so good luck. So, despite Jemma looking a little green on the boat, we returned to the mainland after having a pretty good cruise and being chuffed with seeing the dolphins.
Back to Auckland Before Moving On
Our week by the sea then ended with a long drive back to Auckland to meet back up with friends. After about 1,250 kilometres in the past week, our hardworking little camper van will probably be glad of the rest. Up in Paihia, she even turned a couple of heads, as an older Welsh couple were suitably impressed how we could live quite cozily in our little van. Nice one Lucy.
We have 4 days left here in New Zealand and we might just be staying in & around Auckland. We might try our hand at fishing again if the weather permits, and it's likely we'll be testing our little camper as a city run around. Will she cope as well as she does out in the mountain roads? We'll wait and see.
What ever happens, it'll be time to give her a wash before returning her home & handing back the keys. Next week then, we'll include a more detailed write up of our JUCY New Zealand Adventure, some more photos and some tips for taking a camper van around New Zealand.
[jucy_banner]