Our first impressions of Singapore was that we are no longer in South East Asia, obviously we were, but this city is much more advanced than any other city in South East Asia. It has it all, from sky scrapers to pubs by the river to Amusement parks to clean sandy beaches. The airport is one of the, if not the best, in the world.
And we soon discovered the metro was just as clean and efficient. Needless to say we were impressed. Sadly though, the prices were also very different to those in other South East Asian cities. We went from spending a quid on two beers to spending £10 on a pint and a half!
Our hostel, BetalBox Backpackers, was lovely, with very helpful staff. The only down side was it was on a street filled with Karaoke bars, which being naive, I thought nothing of until night time came and we quickly noticed the gentlemen who visited the bars were not interested in singing that much on the Karaoke.
Shopping in Singapore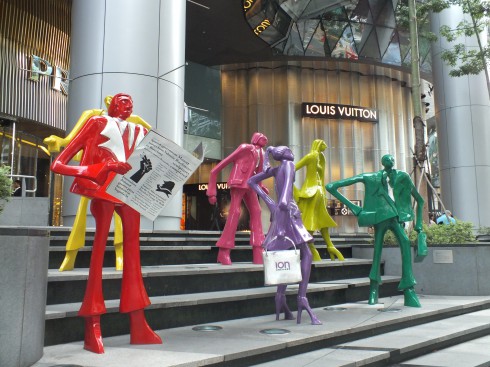 Day one in Singapore was spent shopping. Well, window shopping on the amazing Orchard Road which is a road full of shopping malls. Just off Orchard road was a mall filled with camera shops, where (knowing nothing about cameras) me and John decided to invest in a bigger more advanced camera, with all kinds of features we don't understand and a super zoom. You may notice the difference in our pics soon, but until we've invested in some lessons on how to use it I wouldn't get your hopes up.
All shopped out, a drink was in order by the river, walking down to the river you can see sky scrapers in the background, mixed with trees that belong in the rainforest not a city. There are tropical plants dotted all over this city, with plenty of parks too. It's not your average concrete jungle and whoever is responsible for the planning and designing of it did a great job of mixing two worlds.
Sentosa Island
We were told Sentosa Island was a great place to spend the day, so day two was spent there. The Island linked to the city by a walkway, a monorail and sky rail and is something you'd expect to find in Florida. It's got beautiful beaches with clear waters, a casino, a theme park, a mall, restaurants, shows, an aquarium… the list goes on. You could spend a week there and not do every activity on offer. We were supposed to visit the Night Zoo that night but underestimated how much there was to see at Sentosa and got back late and way to tired to explore the night zoo.
Singapore Zoo & Night Safari
Day three was our longest day so far, we had to fit in the day zoo and the night zoo. Singapore Zoo is a must see and not that expensive compared to zoo's around the world. A lot of the animals are free to roam, like the chimps and a few other monkeys and the ones that are not aloud to roam are not caged in. The zoo has used moats etc.. to separate visitors from animals, rather than cages. This is great until were stood watching the cheaters being fed while John points out that if they really wanted to they could jump the wall.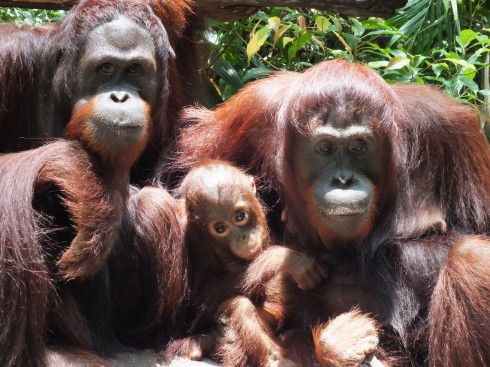 The best part for me was the walk in rainforest, which is like a butterfly zoo, a huge cage you walk into and the animals are all roaming about with you. The animals ranged from ducks to huge fruit bats and we got really close to Lama's and mouse deers.
After a day animal spotting in the zoo it was time to do yet more animal spotting at the night safari. It was only a short walk away from the main zoo and when we got there it was still light, but the nights creep in fast in this part of the world and it was soon pitch black so we began our walk into the rainforest to see what we could. We struggled to see some animals and the pictures are not good but the walk was beautiful and a little scary, you are actually in a rain forest at night. There are paths and a few lights dotted around though so it's not too bad and at one point the walkway becomes a bridge which is in the tree canopy which was really cool!
After walking and seeing what we could we hopped onto a tram a were taken to the places were there were no trails to see more lions, elephants …. the list is endless.
A Day Doing Nothing But Moving On
Day 4 we found ourselves at the end of our Asian adventure and heading to Oz. It was really exciting but sad at the same time, a huge part of our trip is behind us and the whole of Asia is a magical place, with amazing sights and people so we were very sad to leave. Hopefully we will be back there again some day, but for now were heading for Perth in Western Australia to meet some of John's family.