After a somewhat monumental 35 hour bus journey from Vegas (it should have been 30), we finally made it to Dallas, and having not made any real plans we would leave quite surprised.
Things didn't start well, our bus was fully booked so we had to take a 5 hour detour on the Greyhound to get a different bus. Leg room was in short supply, probably worse than any budget airline we've been on, and sleeping was pretty difficult. After only 2 trips on the buses here, we already have a strong dislike for them.
We arrived in Dallas early in the morning, it was already very hot and we had to trundle around down town Dallas with our backpacks to find a bus connection to South Irvine, where we would be based for the next two nights. Our hostel, Dallas Irvine Backpackers was certainly an interesting place.
BBQ, Baseball & Beer
Run by Carlos, the Dallas Irvine Backpackers is certainly unique. It's more like somebodies home with some spare bunk beds open for rent. We received a very warm welcome and a very knowledgeable debrief of the surrounding area. We were also treated to a July 4th BBQ with our new housemates before we went out to the baseball.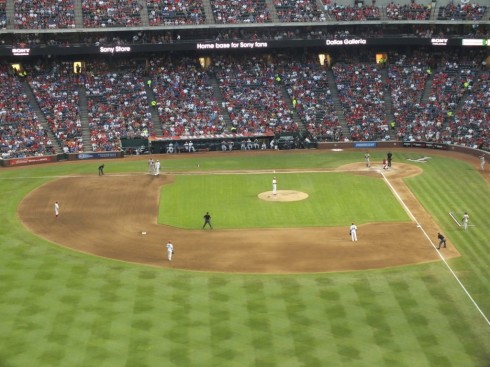 With a near capacity 45 thousand people here to watch the Texas Rangers Baseball Club, we tried to make sense of the rules and make sense of the often bizarre audience participation between innings. It was all very entertaining, perhaps a little more than the actual game which the Rangers eventually won.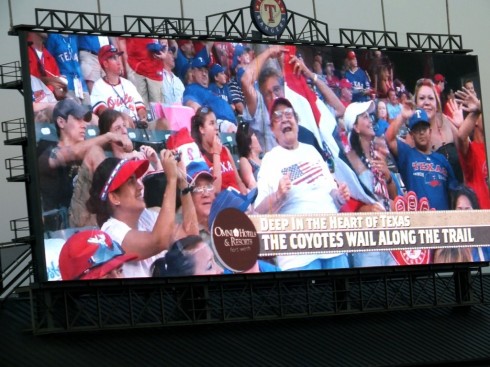 After the sun had set and a few cold beers downed, the game was over and the July 4th celebrations continued with a massive firework display at the ground. Quite possibly the biggest and best firework display either of us had seen. As with everything here in the States, it just seemed bigger, louder & brighter.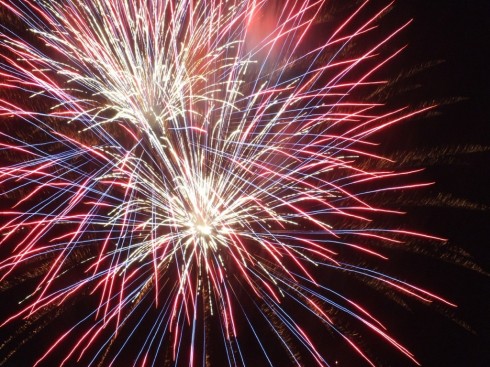 Ride 'em Cowboy!
The next day we nipped in to the town of Irvine for breakfast (pancakes, syrup, sausage, hashbrowns & apple pie. Yummmmm!) before jumping on the train to Forth Worth to visit the Forth Worth Stock Yards where they do real life cowboy stuff. We saw long-horn cattle being walked around the town, cowboys (in all the proper gear) and drank in a proper saloon where at night they do the two step & ride bucking broncos.
This was place was one of many tip offs from Carlos and we're glad we followed up on it. The place was fantastic and good fun. We didn't go into the Cowboy Hall of Fame but Jemma did buy genuine cowgirl boots and we ate steak & calf testicles with a breadcrumb coating, deep fried with a dash of hot sauce & they were actually quite nice.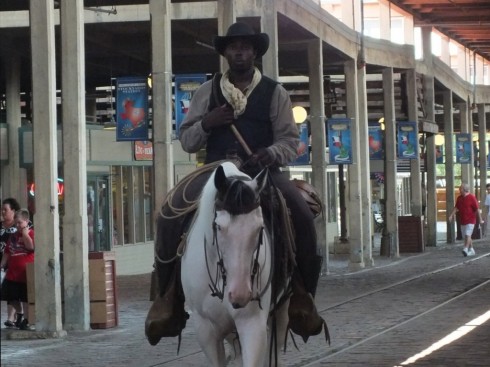 Returning to the hostel, we were pretty shattered and got an early night. Our last day in Dallas was spent chilling out in the hostel, repacking our bags and making use of the free Internet. We had one small errand to run, nip to the bank to pick up Jemma's credit card which she had some how managed to leave in the ATM, duh!
Time to Leave Dallas
Eventually we made our way into downtown Dallas to have a walk around before getting the overnight bus to Memphis, Tennessee. I like downtown Dallas, it has some cracking buildings, it's pretty clean and friendly.
We even had time to stop for a pint of Sam Adams; I'm slowly building my way up to my best when it comes to beer intake. Taking it slow is made easier by the fact that most beers are light beers, and they just aren't nice. Think half a Carling topped up with water. Ewwww.
Anywho, we got on the overnight bus to be welcomed by reclining seats with leg room. Another lovely, unexpected surprise from Dallas. Shame all our buses aren't this comfy.