After an eventful bus journey with Greyhound we finally arrived in the magical world of Las Vegas. Some of the hotels on the strip are quite reasonably priced so we treated ourselves and stayed at the very top of the strip in the Stratosphere.
There is a viewing platform at the top of the stratosphere from where you can see all of Vegas and we got to go up for free because we were guests, bonus! We also has a pool, which is a treat for us budget travellers and of course a huge casino to lose our money in.
With John still on antibiotics and not feeling the best, our time in Vegas was mostly spent relaxing, we're going back for round two after visiting the south when were feeling back on form. Still we got out and about and saw a few sights.
A Disneyland for Adults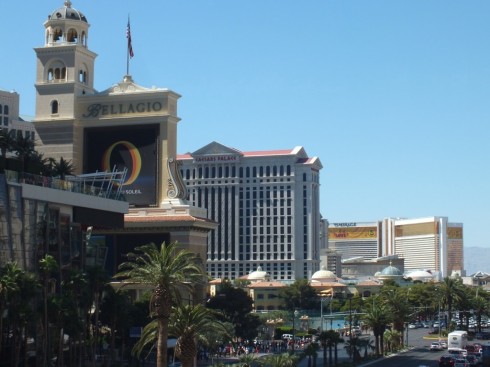 The place looks like it's been designed by kids, it really is an adults playground with roller coasters in the casinos, sinking pirate ships, dancing fountains and at night, everything is lit up like a Christmas tree.
There's a bus which runs up and down the strip which is only 12 dollars for a 24 hour pass, and (like everything in Vegas) it runs 24/7. We spent the day hopping on and off to see as many casinos as we could. There all themed, usually by places or countries so one minute your in France, the next New York.
We met up with friends from home, Jim and Lisa, who were in Vegas for Lisa's sisters wedding. It was nice to see some familiar faces & catch up and we all witnessed a guy place all his chips on one number at roulette and win! Everyone on the table was cheering, he won a few thousand at least, we on the other hand were not so lucky but we only put pennies in the slots.
Wasting Time on Freemont Street
We spent the last day in Fremont Street, it was close to the Greyhound station and we had a few hours to kill in-between checking out and catching our bus to Dallas. Jim summed it up quite well; Fremont Street is to Vegas what Rhyl is to Blackpool, which is actually quite true.
The casinos are a lot older and apart from the Golden Nuggart they're all less well known, some of the show girls are a bit older too, but because it's smaller and more compact than the strip it's easier to wonder in and out of the bars & casinos and there's a good atmosphere. The street is covered with a white ceiling which at night acts like a giant TV screen, which is a pretty impressive sight to be seen.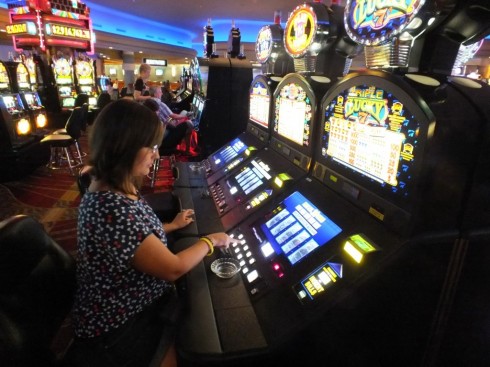 Don't get me wrong Vegas is not everyone's cup of tea, yes it is a bit tacky and looks like it was built by kids, but if you take it for what it is, just a bit of fun and go along for the ride I'm sure anyone can have a good night in Vegas.