The main attraction to Washington for most visitors are the memorials & parliamentary buildings. If that's what your looking for then this is the place to be! We spent the whole of our first day trying to see them all.
First stop was the White House, were we were a little disappointed because you can't get that close. From the White House you can see the Washington Monumont which is more commonly known as the big needle.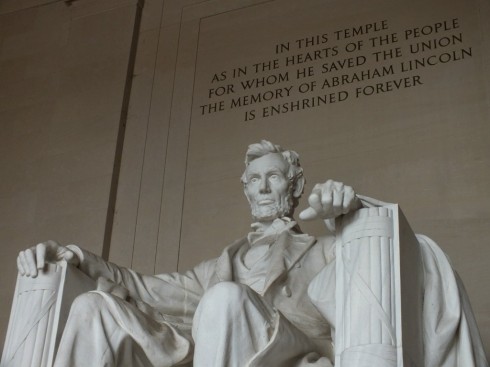 The WW2 memorial was next, which is the best to look at design wise I think. Anyway the list of memorials goes on and on to include more war memorials and tributes to past presidents. The Roosevelt memorial is worth a look with it's pretty water features.
We were very disappointed when we arrived at the reflection pool (the one from Forest Gump, where he's making a speech and Jenny runs through the water to him). It was empty! Bloody typical we travel all around the world to see it and it's being rebuilt. I suppose we witnessed a piece of history as they won't renovate it again in our life time it's a huge project.
The second day was spent sampling some of the shops in offer around the city, this place is not short of shops, bars and café's so if you need a break from visiting the monuments there's plenty to keep you entertained. Mind you if your on a budget like me and John, the monuments being free are the cheapest option, unless unlike me your good at window shopping.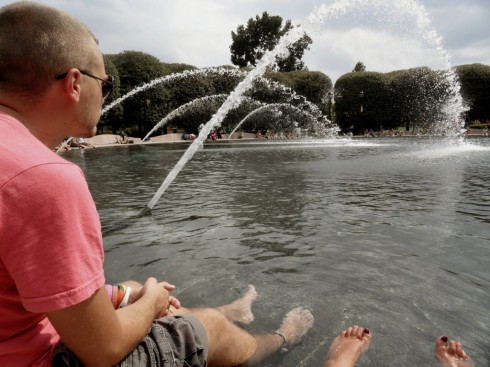 Towards the end of the day we walked to the Capitol Building in the sunshine and sat in the gardens on our blanket like a pair of oldies enjoying the sunshine, that was until out of nowhere torrential rain hit! With nowhere to hide we made a run for it down the road and eventually found sanctuary in a very grand museum entrance with a few others.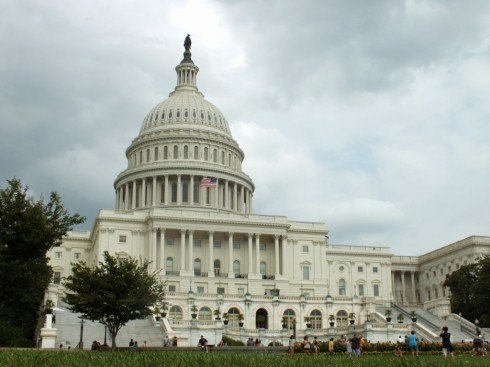 That night we were treated in the hostel to a free BBQ (luckily the rain had stopped by then) It was a staff members birthday so free cake was also on offer. Sweet!
Our last night was spent in separate hostels due to a mess up with the booking and them having no space for one of us on the last night, John booked himself into a hostel down the road and we spent our first night in separate buildings in 7 months!
A tip for fellow travellers, if you book through hostel world, double check the hostel have your booking and it's correct. We don't know who was at fault but wrong booking details being held happened a few times during our trip, that's what happens when there's a middle man I suppose. Not that were knocking Hostel World it's a very handy site.
So that was Washington, sunshine, rain, memorials and free cake. Next stop, New York, New York.