Well. After a calamity of a journey which will go down in the history of our trip as the worst bus journey EVER, we eventually made it to Las Vegas, almost 13 hours late for part two of our Las Vegas experience.
After a brief stop over in Austin, Texas where we did just short of nothing but chill out, we jumped on what should have been a straight forward 35 hour bus journey including three stops. Well, 35 hours turned into 48, 3 stops in to 4, a few missed transfers and a broken down bus. Or to better explain, the air conditioning broke down so it meant the temperature at night on the bus was in excess of 100 degrees, about the same as mid-day Las Vegas.
Bloody Greyhounds, Never Again
Anyway, with us both back on form & no antibiotics to be seen, there was only really one thing we were ever going to do once we arrived in Vegas; party! That was the plan anyway. Arriving late morning, we checked in and fell asleep. Missed our first morning & most of the afternoon. Oops.
Late afternoon, we hit up a little Mexican restaurant in the Imperial Palace Hotel where we would be staying for 2 nights (should have been 3, thanks Greyhound!).
Enjoying some good grub washed down with Coronas & $1 Margarita chasers we made our battle plans for the next couple of days; see the remaining hotels on the strip, watch the pirate show at Treasure Island, watch the volcano at the Mirage and maybe the fountains at night at the Bellagio. If we had time (and money) maybe a day trip to the Grand Canyon. Maybe some shopping.
Food done, we headed out on to the strip for a short while before heading back to the room for a power nap. A power nap which saw me wake up the following morning pretty much, bugger. Another day wasted in Vegas, and I'm blaming the previous nights bus journey.
Finishing Where We Left Off
The following day was a little more productive. We saw all the remaining hotels, which I think barring New York New York, we had saved the best til last. Paris, The Venitian, Mirage, Cesears Palace, Treasure Island are all brilliant in their own ways. Volcanos, gondola rides, pirate ships, Rome and the Eiffel tour in a day.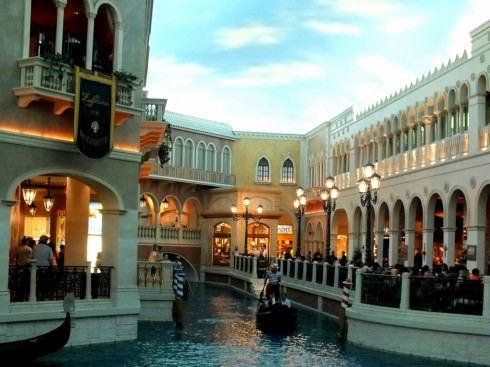 We had time to shop too, time to take plenty of photos and enjoy a few drinks. Throughout the day, we enjoyed several frozen cocktails and crappy beers (still finding it difficult to get a decent beer here) as a warm up for tonight, our final Vegas blow out.
However, we weren't able to take the day trip to the Grand Canyon so it's something else we're adding to the 'must come back & do another time' list. The result of a day missed sleeping, a stretched budget and tight schedule meant it just wasn't meant to be. Gutted!
Volcanoes, Pirates and Cocktails
Later that night, our final one in Vegas for this trip, we got ready to go out. We were off to catch the free shows; the volcano followed by dinner and a front row seat for the pirate show at Treasure Island.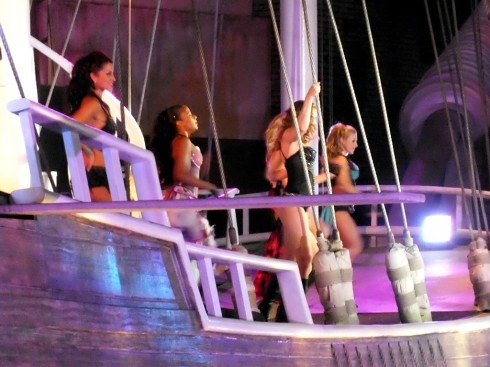 The volcano at the Mirage was good, a smaller, fiery response to the Bellagio's grand fountain display maybe but still very entertaining. The real highlight was the swashbuckling, song & dance spectacle that was the pirate show. I expected a little more swashbuckling and a little less song, but the pretty looking pirates made up for it.
It was made all the better by the fact that we enjoyed dinner outside on the deck area in front of the pirate ship and we didn't have to fight with the hundreds & hundreds of people who turned up to watch. We could sit in the comfort of our chairs, drinking a couple of Buds and munching away. Much the same way I like to watch Utd back at home.
Where to next? New York New York maybe for more drinks, maybe some slot machines. Or maybe the MGM. Or anywhere other than back to bed.
Showing Our Age in Vegas
Well unfortunately, we were limited by our budget, by the effects of the 48 hour bus journey and the sheer exhaustion our 6 months travels to date. Our plans to party that night were quashed. Instead, duty free vodka, a double chocolate chip Ricecrispie Square and a movie back at the hotel. Good night!
The final morning, we phoned home, packed and headed back again to the Greyhound station near Freemont Street. Much like our first time in Vegas, we had time to kill on Freemont Street before the evenings bus.
Again, we trawled the casinos for free games. This time we won, and not just a free photo with a million dollars but $20 dollars or so to put in our pockets. Just as well really as we had a special request from Wendy to put 3 numbers on the roulette, which lost. Sorry Wendy.
Time and money wasted, we were back on the bus, which for the record arrived on time. Next up, San Francisco.