After spending time in Memphis, home of the blues and birth place of rock n roll, it was time to move on, and sticking to the musical theme, we hit New Orleans; the home of Jazz, the big easy!
Yet another lengthy bus ride, which luckily we didn't sleep in & miss like the previous day and to be fair, this one wasn't all that bad. We had leg room and a seat each to spread out. We made it to New Orleans early in the evening.
Not much to report on the first night, straight to the hostel, possibly the hippiest hostel we've stayed at, a really cool place not far from all the action of the French Quarter and Bourbon Street. India House Backpackers was great, friendly, clean and very lively. Take away pizza & laundry before bed for us, exciting times.
Shopping in New Orleans
First on the agenda was to head to town to pick up a few bits n pieces, a couple of new gadgets for me etc… and maybe the odd souvenir. Luckily, shopping in New Orleans isn't that bad with plenty to choose from unlike Dallas & Memphis where we saw little in the way of retail therapy.
After lunch it was back to business, sight seeing and hopefully getting a taste of the real New Orleans. We headed over the tram tracks and down into the French Quarter.
Food, Drink & France in New Orleans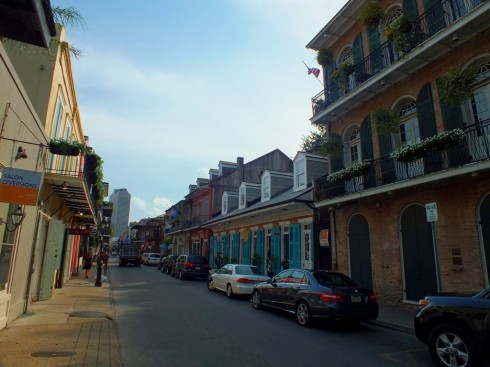 I guess it doesn't take much explaining, or much of a picture painting, the French Quarter is just that. Closely knitted streets with a very French look and feel. Quite nice really.
This area is very popular for it's arts, crafts, antiques and Bourbon Street. We wondered down through the streets to the French Market, which with each stall being quite same same; alligator heads, sunglasses and hand bags, we didn't spend too long here and wondered back.
On the way back we had a couple of cocktails in Margaritaville (the name of the bar) and stopped by to watch a film being filmed. We might actually be in it depending how far the camera panned around. A lively, jazzy film with people street dancing (and us standing there a little confused).
One final stop for a cheap happy hour beer, some air conditioning and sports on the TV. Unfortunately, we didn't realise it was a nakey dancey lady bar. Ah well, we didn't want to look stupid and rude so pretended we were enjoying our drinks and left. And, even though Jemma took some convincing, it was a genuine mistake. Not the worst mistake a guy could make ;-) but still a mistake.
With us both feeling and emanating the effects of high humidity and temperatures of 100+ degrees we thought best to head back and try freshen up. The heat quickly takes it out of you, so we couldn't muster going out again and settled on another McDonalds for food. I'm quickly putting the weight back on!
Staying Longer Than Planned
Given the missed bus a few days earlier, and the price of hotels in Vegas on the weekends, we decided to alter out route a little and stay in New Orleans a couple of days longer.
With the extended stay, we decided to do nothing on the second full day and save our energy for the evening and a good job we did. Hitting the streets about 8, we had a bite to eat and went for a few beers on Bourbon Street.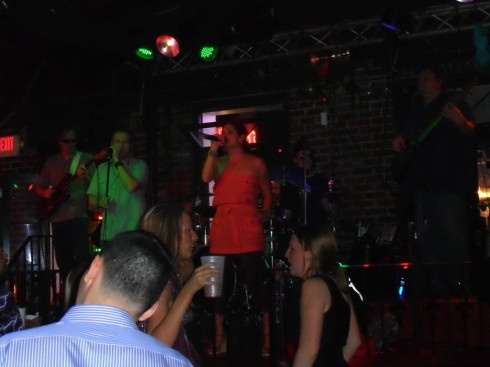 The street was heaving, live music and parties everywhere. We were also treat to loads of cool sports cars as the Bull Run was in town that night. Ferraris, Aston Martins and likes all with their racing decals on was quite a good sight to see. Even better to hear when they set off again.
A few bars, lots of live music and lots more beer (three for one, great stuff) we found ourselves in a little bar with only 2 or 3 people in and we stayed here until about 4am talking with locals and having quite a good laugh.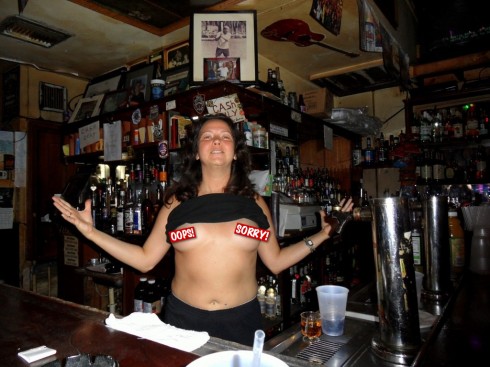 Jemma also got here own back for the previous days choice of bars as this was a bar with a Mardi Gras vibe all year round, inc. a barmaid who flashed when you bought a shot. Luckily, I don't drink spirits. Jemma does.
The Mother of All Hangovers
The following day we did the grand total of nothing. Jemma was hung over and possibly slightly drunk right into the evening. We ventured out for more McDonalds and I sorted out a few blog posts. Not very eventful at all.
An early night for us both as we would be packing up and heading back towards the west coast, stopping in Austin, Texas. Again, we're on a lengthy bus ride, about 12 hours this time through the night. Writing this blog post as we go along.
And now, as I come to the end, I can go back to concentrating on my fight with the woman in front. She is determined to recline her seat all the way back but unfortunately, my knees just won't budge, no matter how much she pushes. If only she'd ask first, then maybe I'd let her, but then again I probably won't. Good night!